If your organization distributes catalogs, reports, or print of any kind, Digital Print Card can change things, for the better.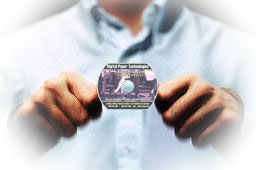 Empowering Your Organization
What is your objective when designing, printing, and distributing printed pieces? These activities are time consuming and costly, but are necessary because communicating information about your products and services is fundamentally necessary.

We can reduce the time and cost of these activities greatly. What your organization chooses to do with these freed resources is up to you. Here are some suggestions:
Increase new business by sending 2x+ as many printed pieces to more contacts with the same budget
Cut your printing and distribution budget by over 50% while sending more information to the same people
Increase the frequency of your mailings to keep information current and achieve greater recognition
Decrease time-to-market, we are faster
Users can optionally install your content for fast viewing at all times, making sure your organization is up-front at all times
Explanation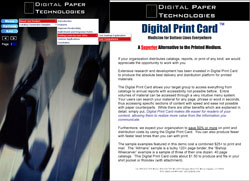 Extensive research and development has been invested in Digital Print Card to produce the absolute best delivery and distribution platform for printed materials.
The Digital Print Card allows your target group to access everything from catalogs to annual reports with accessibility not possible before. Entire volumes of material can be accessed through a very intuitive menu system. Your users can search your material for any page, phrase or word in seconds, thus accessing specific sections of content with speed and ease not possible with paper counterparts. While there are other benefits, simply put, Digital Print Card makes life easier for readers of your content, allowing them to realize more value from the information you communicate.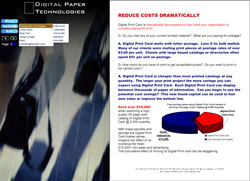 Cost Benefits
Digital Print Card will save your organization 50% or more on printing and distribution costs.
Digital Print Card costs less than print at all quantities, from 100 to 100,000+. In many cases, organizations prefer to release printed material more often, but find it cost prohibitive to do smaller print runs. Whether you organization requires large runs or smaller more frequent runs, we can save you bundles.
Consider the cost of printing 100 units of your catalog (or manual etc.). Is this even feasible? How about 1,000 units? We can offer you what may have been impossible before.
For clients with large orders (10,000 units +) we like to compare the storage and handling requirements of 10,000 200 page catalogs and 10,000 Digital Print Cards (which will occupy approximately 1/100th the physical space).
How much does each printed piece mail for currently? Has this influenced the frequency of your mailings or perhaps the volume? Digital Print Card mails for letter (currently $.37) postage while containing potentially thousands of pages of information, the efficiencies are staggering. Distribute any number of pages or volumes of material without increasing mailing or production costs.
Digital Print Card costs less than printed material (assuming 30+ page color) at all quantities.